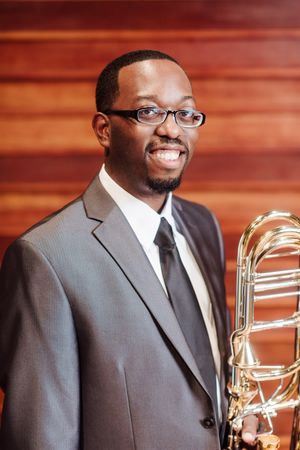 Trombonist Martin McCain's career spans an impressive range of musical genres. He is a four-time winner of the Global Music Awards and was featured as their "Emerging Artist" in Billboard magazine. A third-generation musician, Martin maintains a versatile performance schedule as a soloist, recording artist, chamber, orchestral, jazz/commercial musician and educator. With performances described as "solid and masterful," (International Trombone Association Journal) with a "warm and beautiful," tone (Glissando Magazine). 
McCain's international recital credits include concerts at the Yong Siew Toh Conservatory (Singapore), Mahidol University in (Thailand), the Zagreb Academy of Music in (Croatia), and the Hong Kong Academy for Performing Arts. His performances and arrangements have been broadcast on CKWR Toronto, Radio Television Hong Kong, and NPR's "Performance Today."  
 
As a soloist, Martin has performed with the Croatian Army Wind Band, United States Army Concert Band "Pershing's Own" and the United States Army Brass Quintet. He is a prizewinner in multiple competitions including the International Trombone Association's Donald Yaxley Solo Bass Trombone Competition, the Kai Winding Jazz Trombone Ensemble Competition, in addition to the American Trombone Workshop's National Bass Trombone Solo Competition and Jazz Trombone Ensemble Competition. 
As a recording artist, Martin has released three solo CDs, Trombone Czar: Russian Treasures Recorded Live! (2012), Shades (2014) and Trombone Czar: The Extended Version (2015). He can be heard on Summit Records, Naxos and numerous film and videogame soundtracks. As an orchestral musician, McCain is a member of the IRIS Orchestra and regularly performs with the Malaysian Philharmonic Orchestra, the San Antonio Symphony, and the Memphis Symphony Orchestra. He has also performed with the Utah Symphony Orchestra and the Houston Symphony Orchestra. 
McCain is the leader of the award-winning jazz trombone ensemble, JazzBonez and a member of the Rodney Marsalis Philadelphia Big Brass. Martin regularly performs with his wife, pianist Artina McCain as the McCain Duo. As a jazz/commercial musician, he has performed with the Tommy Dorsey Orchestra, Frank Sinatra Jr. Orchestra, Memphis Jazz Orchestra and several Broadway touring shows including Hello Dolly, the Lion King, Wicked, the Color Purple, and Motown.
 
Martin is an Artist/Teacher of Trombone and the youngest faculty member to hold the rank of full professor at Texas State University. He held similar positions at Henderson State University and Huston-Tillotson University. Dr. McCain's students have also been extremely successful in solo and ensemble competitions including those hosted by the International Trombone Association, the American Trombone Workshop, and the Big 12 Trombone Conference and are regular winners of the Texas State University concerto competition. In recognition of his teaching, Martin received the College Achievement Award in Teaching and the Presidential Distinction Award for Excellence in Teaching. His students have been accepted into some of the nation's most prestigious graduate programs such as the Juilliard School, Eastman School of Music, Yale University, Northwestern University, Manhattan School of Music and the Cincinnati Conservatory of Music. In addition to his duties at Texas State, Martin has spent summers on the faculty of the Austin Chamber Music Festival, the Interharmony International Music Festival (Italy), the PRIZM International Chamber Music Festival, the SliderAsia Music Festival (Hong Kong) and the English Brass Academy (Croatia).
 
Martin McCain is a performing artist for S.E. Shires, Reunion Blues Gig Bags and plays on the "McCain" signature mouthpiece series manufactured by Pickett Brass. In his spare time, Martin is an avid BBQ pitmaster and sports enthusiast. For more information, visit www.martinmccain.com.
 

Office: 248
Phone: 512-245-1870

Email: mm221@txstate.edu

Website: www.martinmccain.com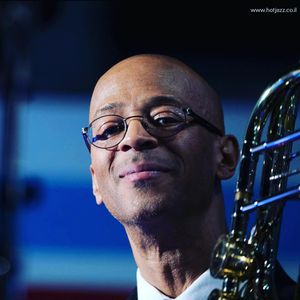 New York City based musician Ron Wilkins has been performing on tenor and bass trombones, euphonium, tuba, bass trumpet and vocals for over forty years. He has performed at the highest levels touring around the world with his own groups as well as premiere artists. Ron is a member of the Birdland Big Band, Dizzy Gillespie All-Star Big Band, and runs his own New York City big band alongside trombonist Rebecca Patterson which features their writing and includes some of New York City's premiere musicians.
Ron's uncanny musicianship has led him to perform in many diverse musical genres. He has performed with artists such as Ray Charles, Aretha Franklin, Rosemary Clooney, Lena Horne, Bob Hope, Jerry Lewis, Dizzy Gilespie, The Count Basie Orchestra, Mingus Big Band,  The Temptations, Johnny Mathis, Jimmy Heath, Jon Faddis, Eddie Daniels, Randy Brecker, Wycliffe Gordon, and groups such as The Vanguard Jazz Orchestra, Jimmy Heath Big Band, Arturo O' Farrill and his Afro-Latin Jazz Orchestra, The Dizzy Gillespie All-Star Big Band and Small Group, Chris Potter Big Band, Ed Palermo Big Band, Affinity Brass Quintet, Uptown Brass Quintet, Livio Almeida Brazilian Dectet, Memo Acevedo's Building Bridges Band, San Antonio Brass, Capitol of Texas Brass Quintet, San Antonio Symphony and Festival Orchestra, Austin Symphony and Austin Pops, Mid-Texas Symphony, Victoria Symphony, Temple Symphony, and the Flint Symphony where he was twice guest artist for their summer pops concert series.
​Ron has performed with many theatrical productions including The Big Apple Circus, Ringling Brothers, touring Broadway shows, including "Frozen", "West Side Story", "Wicked", "The Lion King", Showboat", "The Producers", "Kinky Boots", "Book Of Mormon", "Shuffle Along" "Motown", and many others. He is currently a sub on the Broadway shows Wicked and Frozen. He was a featured artist on bass and tenor trombones at the International Trombone Festival in 2002 at the University of North Texas. Ron is a veteran of the USAF Band of the West at Lackland AFB in San Antonio.
Ron also has an extensive background as an educator. He has performed as a guest artist at from the elementary to university levels, jazz festivals, and has maintained his own private studio for decades. He has held positions at several colleges including the University of Texas at San Antonio, University of Incarnate Ward, Texas State University, Texas Lutheran University, Northwest Vista College, St. Mary's University, teaching low brass, jazz studies, and vocals.
Ron has two cds as a leader, "A Tribute To The Masters" (2000) and "The Bundee Brothers Bone Band" (2005) with former Ringling Brothers lead trombonist, Bill Gibson. As of October 2012, he was featured on a live recording with the Frank Wilkins trio (Boston, MA) at the Fishmonger Café in Cape Cod, MA. Ron currently maintains his own private teaching studio and works with the New York Jazz Academy.

Ron is a Shires trombone artist and plays Giddings mouthpieces. He has worked with Ivan Giddings to create his own signature line of mouthpieces.
Office: 226
Phone: TBD
Email: rw1198@txstate.edu
Website: www.ronwilkins.net